2016 Update on Pet Spas for Condos and Apartment Complexes
In 2015, we reported that more and more multi-family housing architects have been asking if we can supply equipment for self dog-wash facilities, pet-washing stations, or "pet spas" as a great way to attract more residents.
And, we noted an increase in inquiries from companies that manage existing multi-family dwellings such as apartment complexes.
That was just the beginning of a massively popular pet spas trend in housing. Here's a 2016 update on this trend… and how you can offer your housing complex a fabulous pet spa/station your residents will love.
Wow, pet-loving residents of condos, co-ops and apartments are taking pet care to a whole new level. And housing complex managers and designers are responding across the U.S. and Canada.
Here's the most recent evidence we found for 2016:
This is just a small sampling of articles we found regarding the exploding demand for pet spas and other amenities in the condo and apartment world.
So if you're an architect, builder, or manager of multi-family housing complexes, how do you help meet the demand for pet-friendly housing?
You can recommend and design pet spas and other attractive pet-care amenities into all of your housing designs. It will be well worth the effort, whether you're creating a new housing complex or managing an existing community.
As a dog wash company that specializes in exceptional quality, stainless steel dog bath tubs and more… we offer two main products to get you started: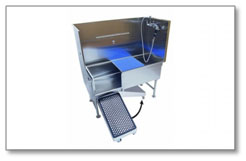 Our clients have told us that a self dog-wash station is a popular amenity that makes pet owners happy; it's often why they move to the client's property.
If you'd like to explore a pet spa for your community, contacting us for assistance. Call us at 877.459.7827 or email sales@directanimal.com.
Other Questions? Comments? Please add a comment below. Thank you.
We are experts in kennel design and manufacturing, committed to quality control and testing. We actively seek out and test the best materials that will promote durability and longevity with the added benefit of being the best looking dog kennels on the market. After more than 25 years of manufacturing, we understand that the construction of our dog kennels is just as important as the type of materials we use. Whether you are a luxury boarding facility, animal shelter, rescue, control or a busy veterinarian we look forward to the opportunity to share our knowledge as a kennel manufacturer with you.